Kermit
Pictures: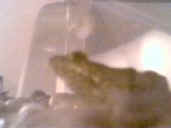 The day we got her: The day we gave her away:
Fall 2001 Fall 2002
The day she was born:
???? ??, ????
Type of Pet:
Frog
The Frog info:
She's a Green Female Frog her owner is Nick and Kevin.
More Info:
We got Kermit in a pond at Lions Park close to our apartments we used to live at.
We put Kermit back in the pond we found her in a year later.